If you've been following Google's latest set of updates to AdWords campaigns, you may have gotten word about the recent changes to sitelinks and how they appear in your paid advertisements.
The new sitelinks make your ads even more flexible, give you more options for landing pages, and offer several exciting new benefits, including automatic social integration, the ability to choose the exact ad text for each link, and the flexibility to manage your sitelinks at either the campaign or ad group level.
What Are Enhanced Campaigns?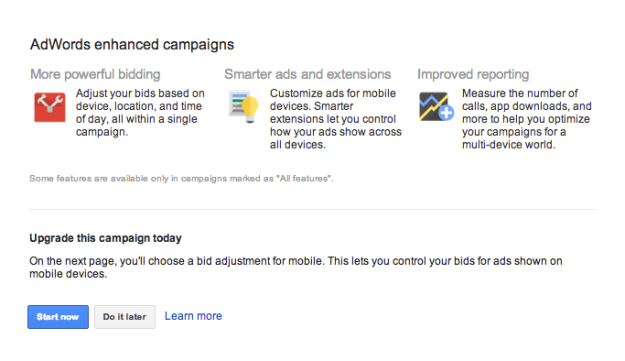 In February of 2012, Google announced the introduction of enhanced campaigns for AdWords, which aims to streamline and consolidate a lot of their existing features into single campaigns. While these updates remain optional for now, every AdWords account will eventually be rolled over to the new format by the July 22 deadline.
Enhanced campaigns are designed to streamline the user experience within AdWords. While in the past, you had to run multiple campaigns and find creative workarounds to change certain aspects of how the same ad was displayed, the new set of updates makes it possible for the user to manage all of these options from within a single campaign.
With the new AdWords, you can display different ads based on a user's location, the time of day, the device that they're using to search with (mobile or tablet/desktop), and you can adjust how much you bid for ads displayed to those particular users. So, for example, if you're a restaurant located right downtown, and your customers are more likely to find you via smartphone search than from their computer at home, you have the option of bidding more for your mobile advertisements, and improve your traffic for just those searches.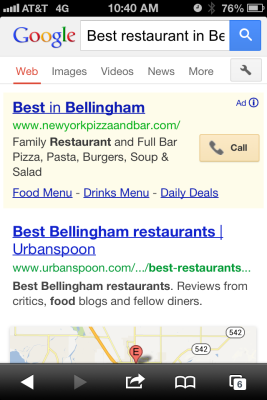 If your analytics show that users typically find your site by searching at home, you can do the opposite. Not only will your campaigns be easier to manage, reporting becomes several steps easier, since all the data is tracked in and derived from the same source.
How Have Ad Sitelinks Changed in Enhanced Campaigns?
Other than your new bidding options, one of the newer and cooler additional features of enhanced campaigns is the ability to improve your ad sitelinks, or the smaller hyperlinks that appear under your main ad.
With their February announcement, Google explained that enhanced ad sitelinks can combine your existing sitelinks (which already increase clickthrough traffic by an average of 30%) with the copy from text ads you're already running. This not only helps make your ads more streamlined and informative, but also means that your ads will occupy more space onscreen because of the new text that now appears under the links themselves. You can check out their example on the AdWords blog.
Why Upgrade to Enhanced Sitelinks?
If you're wondering what the benefits of upgrading are for you and your company, the answer is simple. First and foremost, upgrading to enhanced campaigns will get you a whole new set of AdWords updates and features. And every account will be rolled over soon anyway, so you might as well get a jump on the competition while you still can!
More important, though, are the changes Google recently announced. On June 18, Google took their sitelinks update a step further by allowing AdWords users to choose their own specific text for sitelink descriptions, rather than using the text from existing ads. While this may not seem like a major change, it's actually quite valuable from a search marketing perspective. Now you have even more flexibility in the exact, word-for-word copy your ads display, and you can to tailor your ad text to be more informative and relevant for the user.
Even beyond this most recent upgrade, enhanced sitelinks offer a number of potential new benefits. One is the sheer increase in real estate you get by making use of the added text underneath your links. This will make your ads more visible to customers, and Google is already reporting that the increased visibility translates into even higher clickthrough rates for ads making use of enhanced sitelinks.
Another neat feature included with enhanced sitelinks is that your ads will now automatically display social annotations, such as a Google+ link. This will go into effect immediately for enhanced campaign users, providing you've followed these steps:
Linked your website to your Google+ page
Verified your Google+ page's URL
Made sure the domain listed there matches the domain on your ad's URL
Met Google's quality standards for Google+ accounts. That just means you need to have a lot of recent, high-quality posts, and somewhere around 100 or more followers.
How to Upgrade
If you choose to upgrade before the July 22 deadline — and you should — you can do so by visiting the Upgrade Center within the AdWords interface. From there, you can select the best upgrade method for you, and which campaigns you want to upgrade. You'll be able to adjust your new mobile bid multiplier settings, and once you click "Apply now," the campaigns you've chosen will be permanently set to enhanced mode.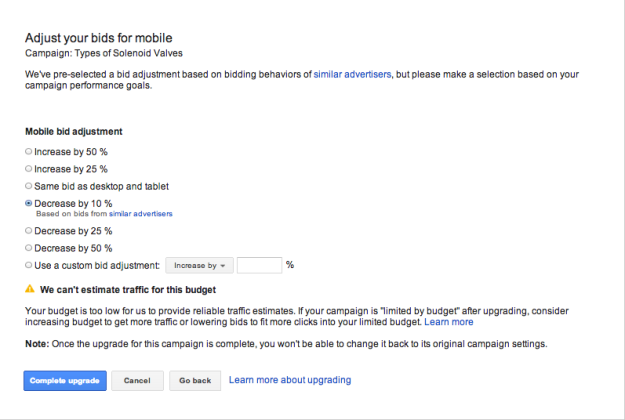 Once your campaign is upgraded, you'll want to go to the Ad Extensions tab, select Sitelink Extensions, and click "Upgrade all sitelink extensions." This will allow you to edit all the new features in enhanced sitelinks, either modifying existing ones or creating new sitelinks altogether.
Keep in mind that, as before, your ads won't show sitelinks every they're displayed—and they won't always appear in the exact same format.
Similarly, Google's previous guidelines for sitelinks still apply, with the following improvements, as listed on the AdWords blog:
Sitelinks cannot violate the duplicate sitelink URL policy
Sitelink text cannot use keyword insertion
In addition to this 4 sitelink view, there is also a 2 sitelink variation
For more information on enhanced sitelinks, check out some of the links above, or Google's own list of best practices.
Happy sitelinking!