Almost three weeks ago, we released a WordPress donation plugin, without much fanfare. While working with political clients, Cathy Lehman & Dan Pike, we realized there wasn't a great leveled donation plugin for WordPress. So, we set out to create a plugin that would fulfill the needs of nonprofits and political candidates. In the end, we created Simple Donate– a WordPress donation plugin that does one thing, very well.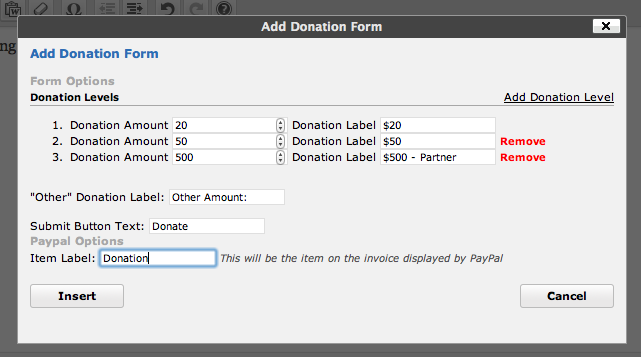 How it works
Simple Donate allows users to insert a donation from the visual editor. Users can also easily label donation levels. This is important because donors will often donate more when presented with predetermined levels and examples of what their money is being used for, (e.g. "$100 will protect 25,000 square feet of Rainforest"). Donations go directly through PayPal, allowing donors to pay with their preexisting accounts, making the donation process as frictionless as possible.
We plan to continue development and look forward to adding useful and requested features. If you have any suggestions on how we can make Simple Donate better, let us know in the comments section below.