FOR IMMEDIATE RELEASE

Today, the team at Ethoseo Internet Marketing announced the re-launch of their website at Ethoseo.com. The main objective of the new site is to provide information to potential clients, while educating them about the importance of search engine optimization (SEO) and search engine marketing (SEM). The launch of the newly designed website includes easier navigation, a responsive design and a portfolio of SEO and paid search case studies.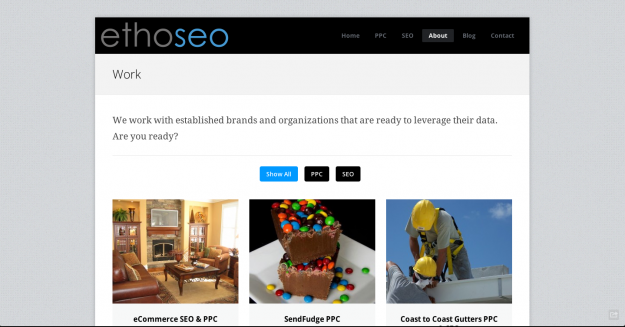 "We want to give clients a clear picture about what we do at Ethoseo. A big part of that, is educating people about the SEO and PPC management process," said president of Ethoseo, Damien Wright. "This new, user friendly website will help clients understand the positive impact search engine optimization and paid search can make. In addition, the Search Insight Blog will provide SEO and pay-per-click (PPC) tips for business owners who aren't sure if online marketing is right for their organization." The new site also features new sections to better meet clients' needs.
New Areas Include:
Professional PPC Services – Introduces the basics of pay-per-click management and provide details about the many PPC management channels.
Professional SEO Services – Explains what SEO is and describes Ethoseo's process and methodology during each search marketing campaign.
Case Studies – Our SEO and PPC case studies provide details about current and prior search marketing engagements. Each case study includes a: Background, Problem, and Solution.
Tools
Also included on ethoseo.com is the Simple Donate WordPress Plugin, a donation application designed to make accepting online payments easy. The tool was developed during a political SEO campaign and allows multiple donation amounts and donation maximums.
About Ethoseo
Founded in 2009, Ethoseo provides professional SEO and PPC Management Services to over 50 clients Worldwide. The company's growth is driven by a passion to make a measurable difference in the organizations and brands they work with. For more information about Ethoseo, please visit: www.ethoseo.com
Contact:
Damien Wright,
[email protected]
360-255-7312