---
Key Takeaways
Advertising is cheaper during a recession
A reduction in ad spend during a recession won't improve your profits
You can boost profits in a recession by identifying new products and audiences
Customer loyalty is at risk during a recession
Staying in front of your customers empowers them to support you
---
The new coronavirus outbreak is having a profound impact on the economy.
Employees are facing unprecedented layoffs and reduced hours, and consumers are reluctant to spend money on goods and services they deem unnecessary.
As a result of COVID-19, consumers are spending more time indoors under stay-home orders, choosing home-cooked meals instead of restaurants, and saving (not spending) what income they have to weather the financial storm. And what purchases they are making are moving online. And some braver consumers are taking advantage of cheap flights and using this time to travel.
For companies with strong balance sheets, maintaining and even increasing ad spend may make sense.
But for marketers in other industries, the answer can seem less clear.
Should you continue buying ads in your particular industry, even as the industry struggles?
Even without examining the specifics of your company, the answer is probably yes.
While it may seem counterintuitive to advertise during a recession, historical data from 2009 provides logical reasons for doing so.
Here are five reasons you should continue (or even increase) your advertising spend during a recession.

Advertising is Less Fierce During a Recession
Your competitors are probably thinking the same thoughts as you: Why advertise when no one is buying? If I'm making less profit, I should cut back on ad spend and save some money.
This line of thinking is the reason advertising is cheap during a recession.
Advertising in magazines is expected to fall by 18.3%. Radio advertising is predicted to plunge by 21.8% and newspaper advertising by 26.5% … Even the much-hyped rise of online advertising has been reversed, with spending forecast to decline by 2.2% in America this year.

The Economist, 2009
With less competition on digital platforms like Google search, YouTube, and Facebook, bids for space are cheap.
Now is your chance to get seen in front of your customers – especially because an increasing number of people are practicing social distancing, which means they'll be online now more than ever.
Reducing Ad Spend Doesn't Improve Profits in a Recession
You may be wondering if you'll save money by cutting back on ad spend. The data finds the opposite is true.
"Firms that increased advertising during a recession experienced higher sales, market share, or earnings during or after the recession."

– Advertising in a Recession, 2009
In 2009, a detailed examination of previous recessions found that "there is strong and consistent evidence that cutting back on advertising during a recession can hurt sales during and after the recession, without generating any substantial increase in profits."
Since ad spend is shown to improve profits during and after a recession, it makes sense to continue advertising.

Economic Challenges Can Inspire New Opportunities
Innovation during a recession can provide a significant boost to business.
In 2009, Amazon experienced a 28% boost in sales. It's the same year the company released its new Kindle DX. In December of that year, Amazon sold more digital books than physical books.
Even if your company has fewer resources than Amazon, you can still find a marketing angle to bring new life to your business. You've likely witnessed other companies doing this already, including an influx of restaurants offering online ordering to reduce the spread of COVID-19.
Brainstorm ways your business can adapt to your customers' changing needs (This is something that all companies should do anyway, regardless of a recession).
Advertising During a Recession Can Build Trust with Consumers
The opportunity to be seen more frequently by customers brings a chance to build trust.
Companies that are consistently visible can bring a sense of normalcy to people whose lives may be experiencing unpredictability.
As you become a familiar face to customers, you can stand out from your competitors as a voice of comfort and source of empathy.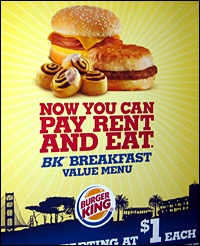 When your company is advertising during a recession, you may want to offer a mixture of information and value. What are you doing to make customers' lives easier during the coronavirus outbreak, for example? Are you practicing good hygiene? Are you offering great deals?
Remember, Loyal Customers Want Your Business to Survive the Recession
During an economic downturn, you still have a loyal customer base.
But the truth is, your customers have a lot on their minds right now: Lost jobs. Reduced hours. Family illness.
In fact, customer loyalty has been shown to take a dip during a recession as they focus on the best price over the brand name.
Despite the many distractions consumers face, your loyal customers want to see you survive the recession.
When spending drops, the companies focused on protecting and growing their most loyal, profitable customer segments often stabilize their businesses. They may even attract new customers, as competitors falter.

Bain & Company, 2009
By marketing during a recession, you're empowering your customers to help you by staying visible. You'll also have a chance to remind them of the value you provide beyond price.
---
Are you adjusting your ad spend in response to the COVID-19 pandemic? Let us know what changes you're making and why in the comments below.