Download The Guide to Organic Growth.
SEO For Pharmaceutical Brands: Why It Matters
A properly holistic pharmaceutical digital marketing strategy includes a plan for both paid and organic acquisition. Paid media is remarkably effective at earning new, targeted leads – especially when it comes to intersecting with patients and healthcare providers (HCP's) on the platforms they use most – but the enduring benefits of search engine optimization (SEO) and organic growth tactics are unmatched in their resilience and value.
Investing in a smart, patient-focused SEO strategy yields dividends for years, without requiring an annual budget for direct ad spend. And most importantly, it's an essential part of how you present your branded and your unbranded properties to patient and HCP audiences.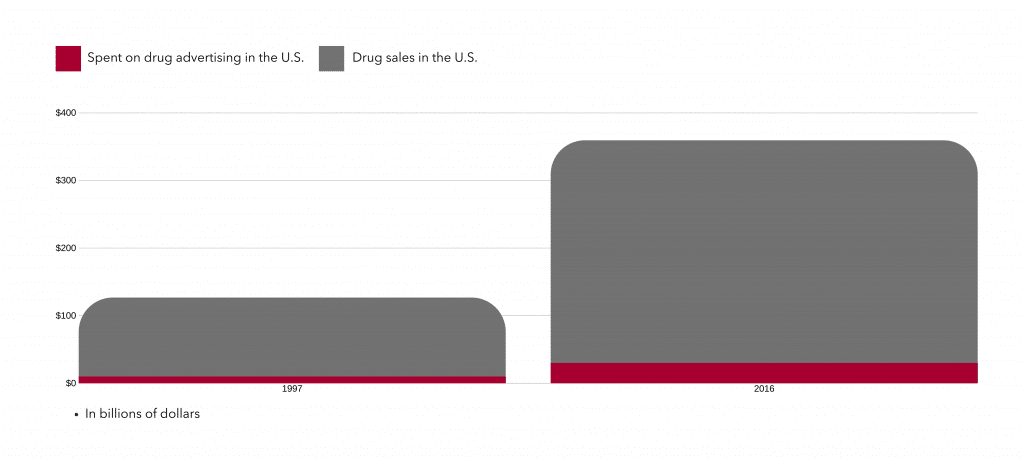 How SEO Differs For Pharma Brands
In most verticals, the SEO process is fairly simple: you know the keywords most valuable to your growth strategy, and you optimize your website for them, producing off-site content concurrently to earn authority through links and attract new visitors through search.
The pharmaceutical industry is different, because the majority of your user acquisition strategy likely revolves around unbranded properties that are intended to reach, educate, and interest patients or HCP's without necessarily advertising the parent brand. This requires a different, multi-layered approach in which each property has its own custom keyword strategy, with unique content intended for its exact audience – typically specific to a particular disease state or condition.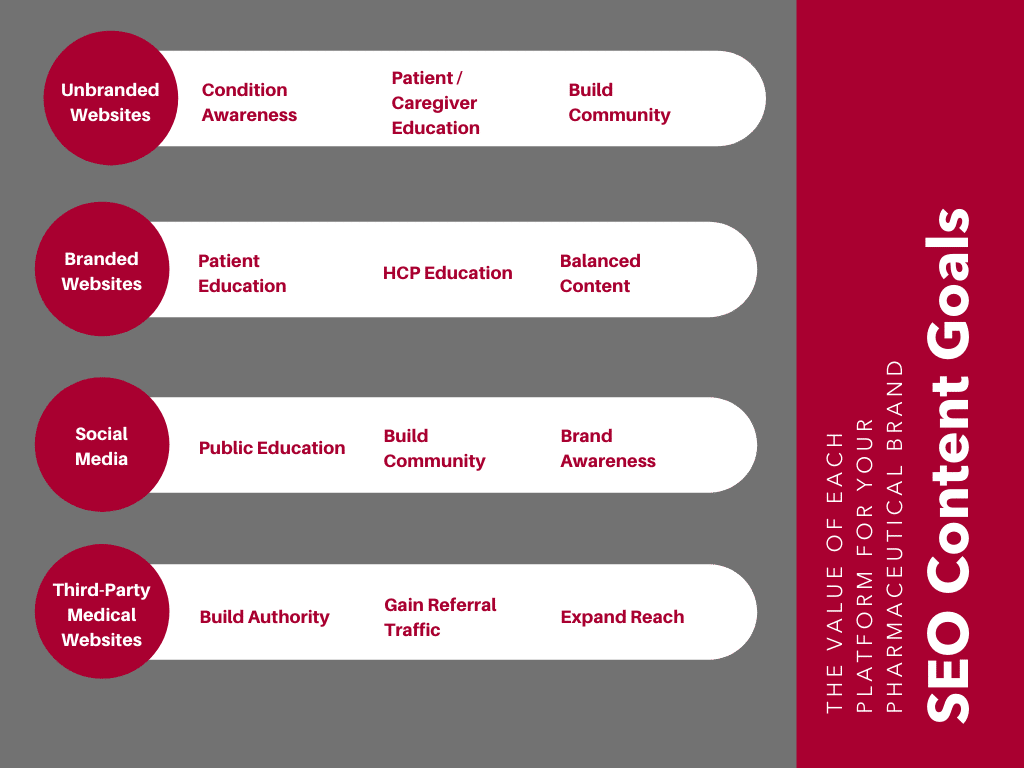 Naturally, any acquisition strategy or tactic in the pharmaceutical space should follow this model, because the audience for each product and its corresponding properties will all be different – but it's even more important with SEO since that should thoroughly inform the content that populates each site.
What Falls Under The Umbrella Of SEO?
Even today, there remain misconceptions about the exact purpose of SEO, and what falls under its definition.
Earning traffic from search engines is, of course, the primary goal, but there are in fact a number of crucial elements in a digital strategy that are relevant to how you approach SEO.
Primary SEO Factors
Accessibility Factors

Site Performance (Speed, Mobile Usability)

Trust Factors (Security, Privacy Policy)
On-Page Keyword Targeting & HTML Structure
Compelling Content (Informative, Educational, and/or Entertaining)
Site Structure & Layout
Secondary SEO Factors
Third-Party Verifications (including reviews)
Inbound Links
What An SEO Strategy for Pharmaceutical Brands Looks Like
No matter how quickly advertising platforms, tactics, and industries may change, the core principles that guide an effective organic growth strategy remain the same:
Know your audience.
Own your content.
Be as explicit as you are concise.
Build the web you'd want to use yourself.
An effective organic strategy for pharmaceutical brands is typically based around one of the three main pillars of search behavior – which also happens to make up the greatest percentage of search: information-based queries. That means the primary purpose of an SEO and content strategy for a pharmaceutical brand should be answering questions and informing your audience.
The other two types of queries — navigational and transactional — while also important to pharmaceutical brands, make up fewer searches overall.
A Pharmaceutical SEO Strategy in 7 Steps
Your pharmaceutical SEO strategy should include at a minimum these 7 steps:
Establish Goals and Objectives
Define Your Audience
Understand the Patient & HCP Journey
Choose Your Target Topics
Create Intelligent Content
Research & Develop A Content Measurement Strategy
Produce & Leverage Off-Site Content
Establishing Goals and Objectives
Before creating new content for your pharmaceutical brand, you should have clear goals and objectives laid out. Having an objective for your SEO campaign will provide context for your team as the content is developed, which will help drive your overall campaign effectiveness.
While goals are often broad, objectives should be measurable and specific. As you establish goals, determine how you might measure the success of each goal.
For example, if your goal is to build a sense of community for patients managing a specific disease, your objectives might be to increase the time on your website while decreasing bounce rates. You'll want to tie your objectives to specific key performance indicators.
So your final campaign goals and objectives might look like this:
Goals and Objectives for SEO Campaign
To build a sense of community for patients managing ABC disease, we will:
Increase the average time spent on the website by 5% YoY
Decrease bounce rates on the website by 10% YoY
Once you've determined your goals and objectives for the campaign, you'll need to define your target audience a little further.
Defining Your Audience
If your goal is to build a sense of community for patients managing a specific disease, you'll want to research who they are, beyond their status as a patient. One effective way to define your audience is through persona creation.
Personas are fictional representations of your target audience. While this exact person won't exist in the real world, your persona should be based on as much real data as possible.
The basic components of an audience persona (examples in italics) are:
Name – Patient Patricia
Age – 65+
Sex – Female
Location – United States
Employment/Industry – Retired
Motivators – To feel empowered in her healthcare journey and disease management
Goals – To seek guidance from others who empathize with her struggle
Frustrations – Limited information is available on this specific disease. Most of it comes from peers rather than reliable sources.
Key Personality Traits – Inquisitive, emotionally sensitive

A persona enables your marketing team to craft content that resonates with your ideal customer and answers their real-life questions. We know from the example persona that Patient Patricia wants to feel empowered in her healthcare journey. We also know she appreciates reliable information from empathetic sources.
Your content's tone and style should meet Patient Patricia's needs — It should be trustworthy, empathetic, and empowering.

Understanding the Patient and HCP Journey
Now that you understand your audience, you'll want to identify opportunities to supplement their healthcare journey with useful content.
Map out the process (thoughts, emotions, and actions) that your target patient or HCP might go through during their healthcare journey. This will help you identify opportunities to provide useful content or information along the way.
One way to do this is to identify what the customer is thinking, feeling, and doing at each step of their journey.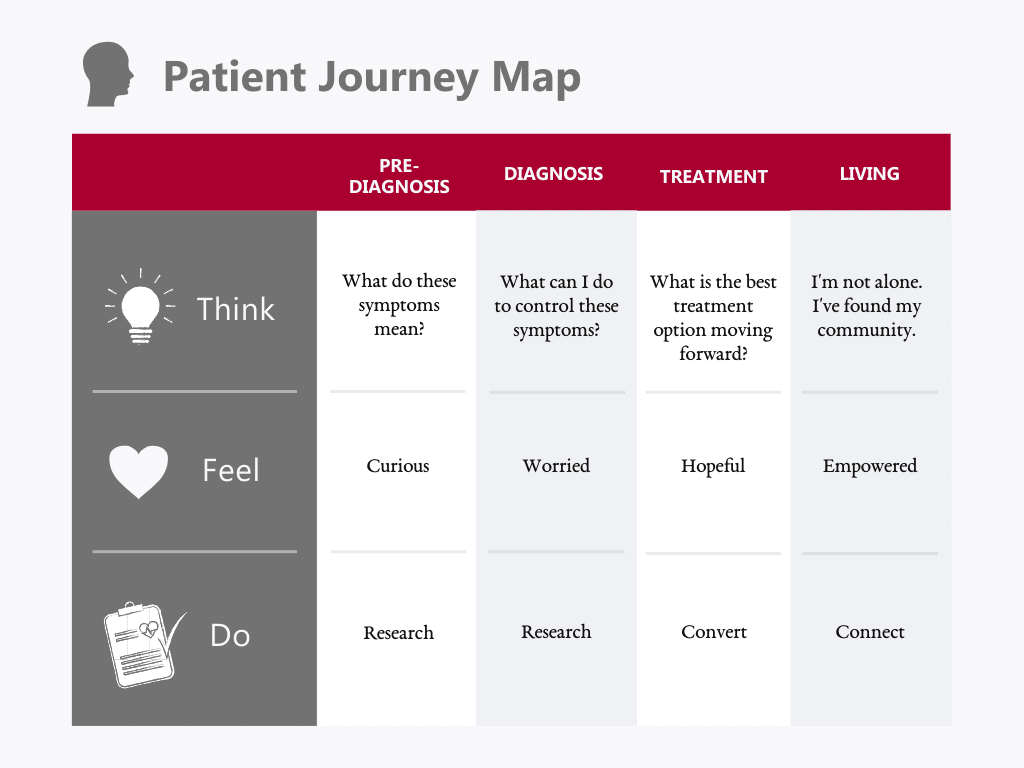 Here's an example of one possible patient journey:
Pre-Diagnosis
Think: What do these symptoms mean?
Feel: Curious
Do: Researching conditions that match the symptoms, looking for information from others who have these symptoms.
Diagnosis
Think: What can I do to control these symptoms?
Feel: Worried
Do: Consulting with a medical professional, seeking second opinions, researching prognosis and treatment options
Treatment
Think: What is the best treatment option moving forward?
Feel: Hopeful
Do: Planning for long-term treatment, exploring caregiving options, researching drug side effects
Living
Think: I'm not alone. I've found my community.
Feel: Empowered
Do: Connecting with the disease community, engaging with patient Facebook groups, staying informed of the latest research and news.
Choosing Your Target Topics
Now that you understand what the patient is thinking, feeling, and doing at each stage of the healthcare journey, you'll use these insights to guide your topics and keyword targets.
You can generate a list of potential topic ideas by asking a question related to your target topic on Google and then scrolling down to the People Also Ask section.
For example a search of "symptoms of diabetes" brought up this list:

Once you have a list, you'll want to cross-reference it with a tool like Google Keyword Planner to refine your list and identify additional keywords to target.
For example, let's say you're writing a blog post about the early symptoms of type 2 diabetes.
When you type "Signs of Type 2 Diabetes" into Google Keyword Planner, you'll get a list of potential phrases to target, along with the average monthly search volume and competition: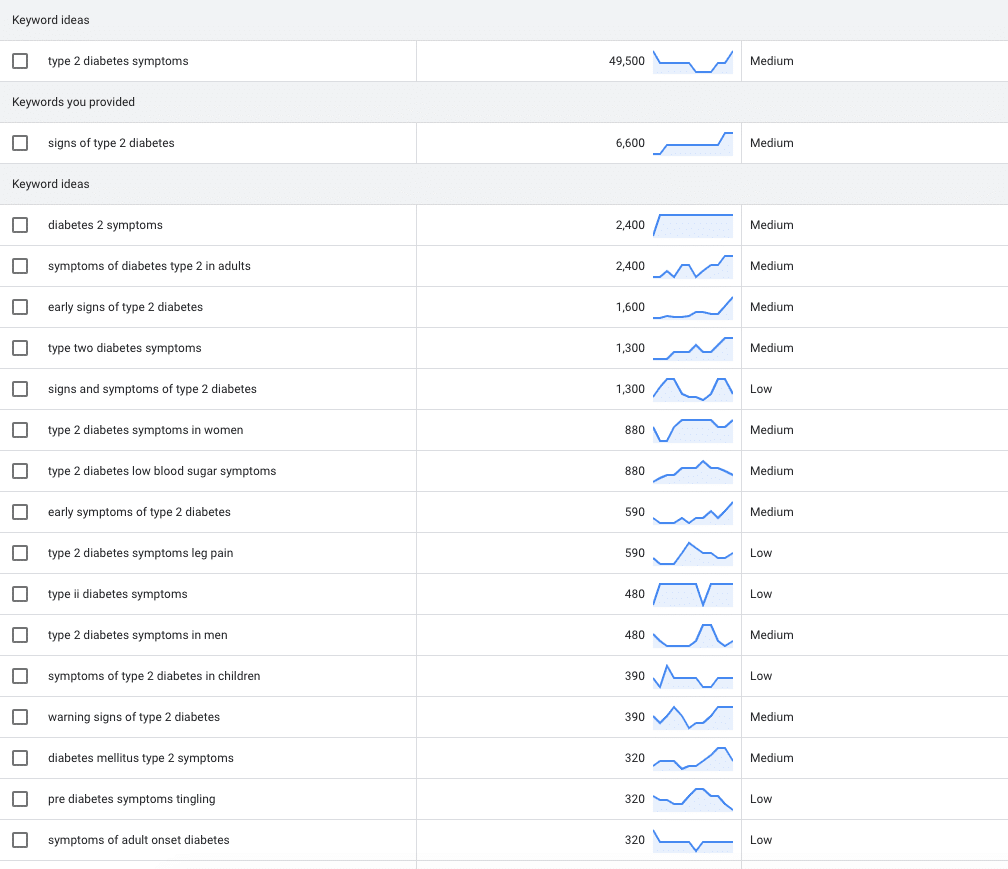 Now that you know the different ways people search for this topic, and the volume behind their searches, you can revise your topic accordingly, e.g., "Early Signs of Type 2 Diabetes in Adults."
The list you generate on Keyword Planner can also help you come up with new topic ideas.
For example, based on your keyword discoveries, you might create a blog post called, "Is Leg Pain a Symptom of Type 2 Diabetes?"
Ideally, you'll create optimized content for every stage of the patient journey, with your brand serving as a trusted resource from beginning to end.
Here are a few potential topic ideas for each stage of the patient journey, ready to be revised based on further keyword research:
Pre-Diagnosis
Notes: The patient is feeling curious at this stage. Their primary concern is to find a diagnosis for their symptoms.
Symptoms of ABC Checklist (downloadable)
ABC Warning Signs and Symptoms
What are the major symptoms of ABC?
Diagnosis
Notes: The patient is feeling worried at this stage. Their primary concern is to control their symptoms.
Should I Get a Specialist Referral for ABC Diagnosis?
What is the cause of ABC?
Can You Die from ABC?
Treatment
Notes: The patient is feeling hopeful at this stage. Their primary concern is to manage their disease.
Treatment Options for Women with ABC
Can ABC Be Treated with Medication?
What Are the Side Effects of ABC Medication?
Living
Notes: The patient is feeling empowered at this stage. Their primary concern is to connect with others in their community
Ways to Connect with the ABC Community
ABC Latest Research News
Living Longer With ABC
Creating Intelligent Content
Put simply, intelligent content is content crafted carefully for your target audience personas, with special consideration given to everything from the platform they're reading it on to their position in the patient journey and even the state of mind they may be in when they find it.
Needless to say, this content should also be highly shareable, easy to read on any platform, and adhere to SEO best practices, with unique titles when possible for social media and search (plus reader-friendliness on the page).
Since audiences consume information in a myriad of ways, on multiple types of devices, you want your content to adapt and make sense in any context they may discover it in.
Here are a few tips for making your content smarter:
Use metadata (H1 headings, alt text, etc.) to help with discoverability by search engines
Categorize your content
If your CRM allows it, choose a social sharing image and description for your post
Keep a raw (unformatted copy) of your work so that it can be easily adapted to different formats (ebook, infographics, slideshows, etc.)
Create content in such a way that you can reuse pieces of it for standalone social posts
What it comes down to is anticipating the ways your marketing team might utilize your content, and the ways your content might be discovered online, and creating your content with these considerations in mind.
Researching and Developing a Content Measurement Strategy
As we noted in our Pharmaceutical Advertising Strategy Guide, about a third of healthcare companies primarily use qualitative data to determine the short-term impact their marketing spend has on their organization.
For a more accurate assessment of your SEO campaign's success, you'll need a content measurement strategy that tracks your KPIs quantitatively.
Your strategy should be based on the user actions and metrics that must be recorded and measured to determine the effectiveness of your SEO campaign.
For example, if your campaign goal is to build a sense of community for patients managing a specific disease, you might focus on engagement with your website.
This may require:
Analyzing blog post sentiment
Analyzing bounce rates for specific pages on your website
Analyzing the time spent on specific pages of your website
Tracking the number of content downloads from your website
Analyzing the return rate for users on your website
Which Analytics Platforms Should You Use to Track an SEO Campaign?
The most obvious choice for tracking the progress of your SEO campaign is Google Analytics or Analytics 360. While Google does offer useful tools for measuring your content's success, it's just one of many ways to measure the value of your organic content.
Possible tactics you might use include:
Tracking changes in your keyword rankings and share of voice with a platform like SEOClarity
Analyzing clickstream data with Google Analytics 360
Measuring brand sentiment with tools like iPerception
You'll want to work with your analytics team to collate your reporting into an actionable dashboard, providing useful recommendations based on the data you've collected.
Producing and Leveraging Off-Site Content
While Google has made significant progress in identifying quality content and rewarding websites accordingly, rankings remain, in some ways, a popularity game.
When another website mentions your brand or links to your content, Google interprets your content as potentially important. The higher authority a linking website has, the better it may be for your rankings.
As a pharmaceutical brand, you're well-poised to show up in authoritative places — journals, medical sites, and national organizations.
Share your knowledge and research with these organizations. Tell them about your new discoveries through press releases and interviews. Offer informational fact sheets they can publish on their website. And if you link to their website, let them know (they may link back to you).
If you manage a social media page, post your newest content so people can find it. Although social posting may not directly impact organic rankings, increased traffic tells Google that your website is interesting.
Conclusion
In many ways, acquisition begins with SEO, because each channel directs traffic to pages on your site that should be designed from the outset to meet the exacting standards of a smart SEO strategy.
Approach your SEO strategy with your target patient or HCP's goals in mind, and you'll achieve measurable results from the information-rich, relevant content you produce.
Download the guide
Additional Resources
Okay Google, How Do I Optimize My Pharmaceutical Brand's Website for Voice Search?
Using The Search Console "Performance" Report for better SEO
Six Ways to Use Google Ads for Better SEO