(Note: the information in this post is provided purely as guidance for advertisers and should not be considered legal advice.)

The world of digital advertising has always been a little awkward for pharmaceutical marketers, given the stringent requirements brands must comply with to advertise their products. But the time has long since passed to play catchup: in 2019, digital advertising spend is on pace to exceed traditional media spend for the first time ever.

And Google continues to take in the lion's share of digital ad budgets: in 2019, the tech giant is projected to earn 36.2% of digital media spend, compared with just 19.2% for Facebook – though both brands are expected to see their combined share decline in the coming years due to rapid growth from competitors like Amazon and Snapchat.

But for now, Google is still king, and that's just as true for pharmaceutical marketers as any others. Consider this: health and wellness queries make up 1 in 20 Google searches. That's 5% of the more than 63,000 searches happening every second on Google – or, to put it differently, 3,150 Google searches per second for health and wellness related topics.

But while search traffic may be a motivating factor, the legal red tape may still (understandably) be a deterrent to risk-averse marketers or executives.
---
Bonus: Download Our Pharmaceutical Advertising Strategy for Brand Managers
How Google Treats Pharma Ads
If you handle your marketing directly, you may have already noticed that Google search results are sparse when it comes to displaying pharmaceutical ads. The reason for this is twofold:

Internal legal and regulatory review processes within the brands themselves, where everything from website copy and printed marketing material to Facebook Ads and Google Ads are subject to close scrutiny for regulatory compliance.
In addition to following guidelines from the Food and Drug Administration (FDA), Federal Trade Commission (FTC), and other governing boards, pharma manufacturers must follow Google's specific guidelines for marketing on the platform.
Navigating the online advertising space can be tricky for pharma brands, but the numbers demonstrate that it's a space well worth exploring. Moreover, taking the time to understand Google's specific regulations for pharma advertising will ensure your ads get seen and that your account stays in good health.
What You Should Know Before You Market Your Pharmaceutical Brand on Google
Google has a fairly specific list of guidelines for healthcare and medicine advertising. You'll need to determine whether your product or type of product is allowed to be displayed on Google's advertising platform, and if so, what restrictions apply. Violating Google's advertising policies could lead to a compliance review, ad disapproval, the disabling of your remarketing list, or even account suspension.

(While Google's guidelines are relatively clear, if you're uncertain about how exactly they may apply to your brand, you may want to consult a pharma advertising expert as well).

Here's what you need to know when planning a pharmaceutical advertising campaign on Google.

FDA and FTC regulations still apply, even in the online space
As you're likely aware, the FDA regulates prescription drug marketing, while the FTC regulates over-the-counter drug marketing, contact lens advertising, and dietary supplements. If you're selling any healthcare product, you'll need to understand these regulations before starting your ad campaign, regardless of the advertising platform.

Google, just like other advertising mediums, won't review the legality of your ad's content. Therefore, the responsibility falls on your organization to understand and follow applicable laws and regulations.

Since you'll be able to run ad campaigns across Google's network (including text, image, and video ads), you'll want to ensure you're following pharma advertising regulations regardless of format.

For example, responsive display ads automatically adjust to fit a variety of spaces. This means you'll need to ensure that the creative assets you're using pass legal review even if the size and shape of the ad changes. In addition, Google may truncate some of the text that accompanies a responsive display ad. So make sure your legal team reviews all potential variants of your ads prior to campaign launch.
Pharmaceutical manufacturers must become certified with Google to advertise
To advertise on Google, you'll first need to apply for certification. This certification is specific to healthcare advertising.


The application is short (in most cases it's fewer than 10 questions long). Once you're approved, you'll be ready to design your campaign, keeping in mind a few more restrictions.

Certification process
You'll need:

Your Google Ads customer ID number
Copy of pharmaceutical license if you are an agency applying on behalf of a manufacturer
Website URL (optional)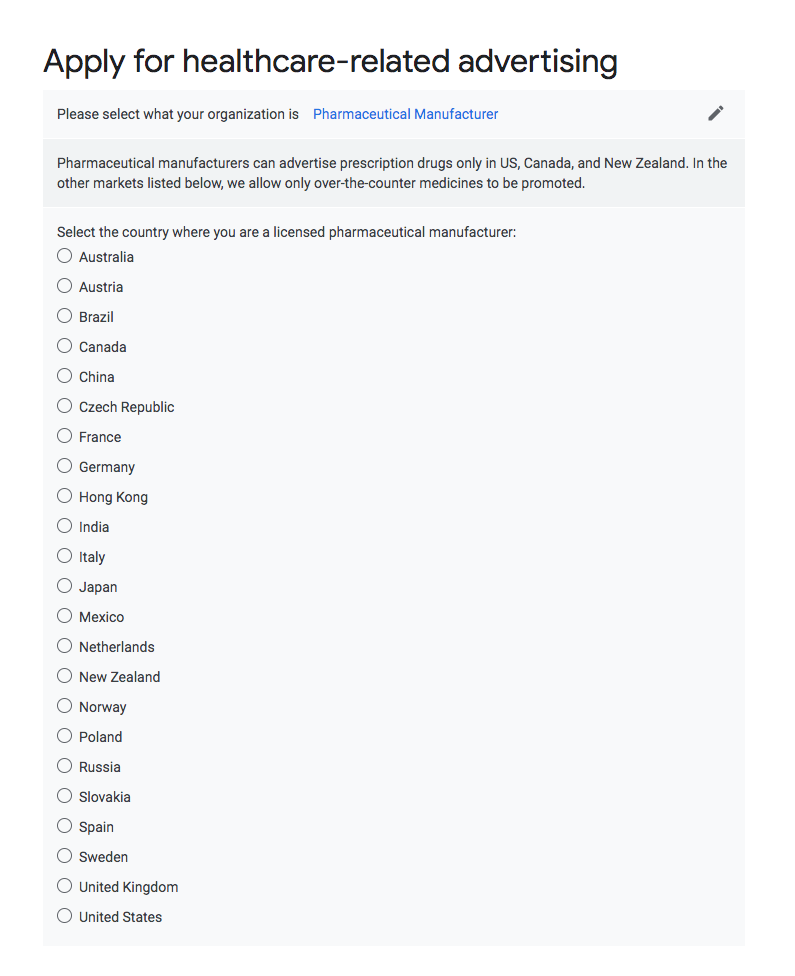 Application Steps:

Select your organization type
Select the country where you are licensed
Indicate if you're an agency applying on behalf of a manufacturer. If you're an agency, you'll need to submit a Pharmaceutical Manufacturer Authorization Letter. Google will only accept one letter format. We've pasted it below for reference.
Fill out your contact name
Add your contact email
Include an address (optional)
Provide a phone number where you can be reached
Include your website URL or URLs (optional)
Indicate whether the URL links to an online pharmacy
Input your Google Ads customer ID.
Authorization letter
Date: [insert date]

To the Google Ads Team,

I, [insert your full name and job title within the pharmaceutical brand], authorize [insert name of the agency you have employed to manage your Google Ads activity] and its partners and affiliates to use Account ID: [XXX-XXX-XXXX – ten digit customer ID] to advertise [insert the domain name of your brand's website] on behalf of [insert name of company that owns the website].

I confirm that [insert the domain name of your brand's website] is the property of my employer, who has authorized me to act on their behalf with regard to the application of our agency, [insert name of the agency you have employed to manage your Google Ads activity], for healthcare-related certification of the above Google Ads account.

I understand that I need to contact Google Ads if I wish to have the certificate removed from the account. Please process the certificate and apply it to the above account.

Kind Regards,

[Signature]

[Insert your full name and job title within the online pharmacy]
Google only allows prescription drugs to be advertised in three countries
Currently, prescription drug ads are only eligible for display in Canada, New Zealand, and the United States.

And, although some advertisers don't use prescription drug terms in their ads, you can use such terms in your ad text and landing pages in those same three countries.

If your product has restrictions on where it can show up, Google will adjust its placement automatically.
Google Prohibits Certain Substances from Being Advertised, Period.
Before you advertise your pharmaceutical product or brand, check Google's list of unapproved pharmaceuticals and supplements. If your product is on the list, then there's no way around it – you can't advertise on Google.
What Types Of Pharmaceutical Products Can't Be Advertised On Google?


According to Google's guidelines, (current as of 03/18/2019), the following content cannot be advertised:

"Google doesn't allow the promotion of the following content, irrespective of any claims of legality:

All items on this non-exhaustive list of prohibited pharmaceuticals and supplements
Products that contain ephedra
Products containing human chorionic gonadotropin (hCG) in relation to weight loss or weight control, or when promoted in conjunction with anabolic steroids
Herbal and dietary supplements with active pharmaceutical or dangerous ingredients
False or misleading health claims, including claims implying that a product is as effective as prescription drugs or controlled substances
Non-government approved products that are marketed in a way that implies that they're safe or effective for use in preventing, curing, or treating a particular disease or ailment
Products that have been subject to any government or regulatory action or warning
Products with names that are confusingly similar to an unapproved pharmaceutical or supplement or controlled substance
Google does not allow the promotion of DHEA products anywhere except the United States, and Google does not allow the promotion of Melatonin products anywhere except Canada and the United States."

If you're unsure whether your pharmaceutical brand's product can be advertised on Google, contact Google.
Google has separate guidelines for specific products and services, like clinical trials and birth control
Some products and services have additional restrictions. Before marketing your pharmaceutical product on Google, check to see whether it is on the list:

Clinical trials: If you are looking for people to sign up for a clinical trial, you can target Canada and the United States along with 20 other countries.
Birth control: Several countries restrict birth control advertising, but it's allowed in many countries, including the U.S., U.K., and Canada.
Once you have identified the applicable restrictions around advertising your pharmaceutical brand, you'll be able to design a marketing campaign that fits the guidelines. But you'll want to follow the regulations of your local governing agencies as well.
Conclusion
Although the process for advertising on Google can seem overwhelming at first, pharmaceutical brands that embrace this platform will be poised to reach consumers researching health solutions online, helping them find the right solutions, at the right time, precisely when they need it most.
Do you have any tips for advertising healthcare and prescription products on Google? Share your insights below.