It's no secret in the world of pharma advertising that budgets have been scaling up in recent years. The broader trend is clear: 2016 saw a tripling of ad budgets over the previous two decades, from around $10 billion annually in 1997 to $30 billion, with direct-to-consumer (DTC) advertising alone increasing from a meager $1 billion to $6 billion in 2016. Last year saw a 3% year over year increase in DTC budgets to an unprecedented $6.4 billion. The lion's share of pharma advertising dollars still go to targeting doctors and healthcare providers (HCP's), but the share of DTC advertising has increased with the overall growth of ad budgets and we should expect that trend to continue.
DTC advertising remains a thorny and controversial subject for pharma marketers, with only the United States and New Zealand permitting brands to market directly to consumers – but within those markets, it's poised to become an even greater part of brands' marketing strategies, and planning for that future reality can deliver a serious competitive advantage to pharma brands willing to innovate.
No time to read now? Reserve your PDF copy of this article.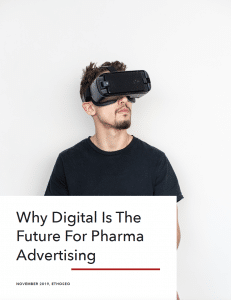 TV vs. Digital Advertising: Understanding Pharma's Slow Adoption of Tech
Much has been made of the rise of digital and its superior reach, precision, and cost-effectiveness across nearly all marketing verticals. But pharma has been slow to catch up, and there's a reason to believe that this isn't entirely negligence on the part of pharma brands. Despite the appeal and usefulness of modern digital advertising tools, TV remains a profitable and effective outlet for pharmaceutical advertisers, in part because of its broad reach across demographics, and accordingly still makes up nearly 80% of all pharmaceutical ad spend today.
In fact, TV spending has increased a remarkable 65% over the last five years, with a 9% year-over-year jump to more than $5.1 billion in 2018. And last year, major pharma brand Pfizer alone spent $1 billion on television advertising, more than double the next-highest spender.
(Not all traditional media formats have been so fortunate, though – this trend was accompanied by a 38% decrease in spending on newspaper advertising.)
Digital Advertising Budgets Are Increasing
However, we can expect to see this balance continue to shift in the coming years. According to research from eConsultancy, 71% of healthcare brands surveyed say they plan to increase their spending in digital, about 10% higher than the average across other industries. And overall, pharmaceutical brands are projected to spend $10 billion in 2020 on digital advertising – a compound annual growth rate of more than 13% since 2014.
Granted, this is still rather low compared to other industries – in fact, eMarketer's 2020 projections put pharma last for digital ad spend, with retail alone expected to outspend pharma by nearly $20 billion.
Where Are Pharma Brands Investing In Digital Advertising?
As the share of pharma ad spend allocated to digital increases, it's worth investigating how pharma marketers are expanding their strategies to incorporate new digital tactics.
One of the most apparent trends is the shift toward mobile, with healthcare advertising projected to grow 15% in the mobile domain – mirroring both overall changes in consumer preference and an industry-specific trend in users seeking out healthcare information on mobile devices. This is true both for consumers (i.e., patients) and HCP's – close to 8 in 10 HCP's say they use their mobile devices for information related to work and check their personal device more than 10 times per day, so it makes sense that HCP-targeted campaigns would place a strong emphasis on mobile.
The growth and prevalence of health & fitness apps also make mobile a natural target for pharma marketers – whether they're actively developing applications themselves or merely using those apps as targeted placements. And the popularity of health apps reflects an even broader trend: consumers taking healthcare into their own hands and using the web to research conditions and learn about treatments. While primary care providers (PCP's) have historically been the first touchpoint for patients seeking information about medical treatments, that is no longer the case, with digital solutions beginning to fill that role instead – albeit with some variance across generations, as younger patients are more likely to embrace digital alternatives to information and care.
This trend also explains, in part, why television advertising remains an effective component of an overall healthcare marketing strategy: where TV ads traditionally have used the classic call-to-action of "talk to your doctor about ___," the trend toward consumers and HCP's using the web or healthcare apps to research products more in-depth (and often ultimately reach a decision) means pharma marketers can reach their target audiences directly without having to use an intermediary. With this strategy becoming commonplace in the healthcare industry, it's no surprise that the share of DTC advertising is increasing, as it's becoming easier than it ever has been for pharma brands to make direct contact with their ideal audience.
What Makes Pharma Digital Advertising Unique?
Digital advertising in the pharmaceutical space has a few distinct trends that separate it from other industries. Let's take a closer look at the main differentiators.
Multi-channel strategies are a requirement. For one, the multiple channels, mediums, and formats that patients and HCP's use to learn about pharmaceutical products and medical conditions necessitate a cross-device approach more or less by default. A 2017 digital trends report by eConsultancy found that "multichannel campaign management was rated several points higher by pharma marketers than those in other industries"—21% versus 16%."
The journey a patient or HCP takes to research and gather information covers a lot of ground and typically includes a lot of individual touch-points – so marketers should strive to design their strategies around each of these points, informing users along the way and guiding them toward the eventual conversion point.
This can also include "point-of-care" interactions, when a user is directly taking action related to a healthcare decision – such as on a tablet in a doctor's office, or when watching TV in the waiting room. Sales and marketing consultants ZS Associates found that this type of interaction was a priority for up to 20% of pharma brands, indicating digital POC marketing will likely become a significant component of most leading organizations' strategies for full-funnel healthcare marketing.
Higher average quality and duration of engagement among users. Another defining feature of pharmaceutical digital marketing is the tendency for users to engage with content at a higher rate and for a longer duration than is seen in other verticals. For example, research by Ogilvy Health analyzing the social media strategies of 20 top pharma brands (including Novo Nordisk, Novartis, Johnson & Johnson, and Merck & Co./MSD) found that while social posts from these leading brands decreased in quantity year over year, they saw an increase in engagement and page following year over year – in some cases as much as 122%.
Ogilvy concluded that high-quality content, combined with paid amplification, was a top-performing tactic for ambitious, industry-leading pharma brands, and one that is likely to endure as a successful means for growing social media followings and boosting engagement. That means that quality videos, long-form posts, and real patient stories are likely to be safe bets for pharma brands' social content strategies.
And with eConsultancy's trend report finding "longer experience" social media listed as a budget priority for 63% of pharma respondents – compared with a 55% average for other industries – it's clear that brands are taking notice of the importance of better quality content, even if it means posting with less frequency.
Finally, display ads continue to receive the most significant cut of ad spend. And where organic and paid search often makes up a considerable percentage of most inbound digital marketing budgets, in the healthcare industry display is king, taking in around 56% of ad spend, compared with 37% for search and a remarkably smaller 7% for all other channels (including social).
What Does The Future Of Digital Pharma Marketing Look Like?
Other than the aforementioned shifts in brand budgets and projected spending, a few trends that may define the pharma digital marketing landscape are evident. One is the growth of programmatic advertising, which has driven massive revenue gains in other industries but remains less widely adopted for pharma brands – receiving less than 5% of the average pharma ad budget, compared to a forecasted 80% for advertisers across all verticals.
Programmatic ad buying is extremely powerful, especially with the significant amount of analytics and user information available to digital advertisers today. But the unique nature of the healthcare space can make this precarious. While interests in other commercial products might be fair game for targeted ad buys, targeting users based on an associated medical condition or interest in a pharmaceutical product that might imply one, is much more dangerous ground, considering the regulations that dictate what brands may and may not use when reaching consumers.
So it's no surprise that adoption of this otherwise widely popular form of advertising has been lagging behind other industries – but given what we know about the necessarily multichannel nature of pharma advertising in the current digital era, navigating this complex area of marketing will soon become a requirement for brands who want to stay current, especially as far as DTC advertising is concerned.
Either way, with data from Accenture forecasting a nearly $6.5 billion increase in digital healthcare funding year over year, it's clear that digital will be an integral part of the future for pharmaceutical advertising. How pharma brands choose to adapt to this new reality is up to them, but all signs so far suggest that doing so is no longer optional.