Now that consumers can choose to opt-out of personalized ads across the Google Ads network, healthcare marketers have an even greater interest in creating compelling advertising experiences for patients and providers.
To help marketers engage with an ever-savvier customer base, Google added a new feature to YouTube's video ads campaign called TrueView for action. This feature allows you to display a branded call-to-action button on your YouTube ads, compelling patients and health care providers to interact with your ad and to take action on your website.
---
Download Our List of 10 CTAs for Pharmaceutical TrueView YouTube Ads
---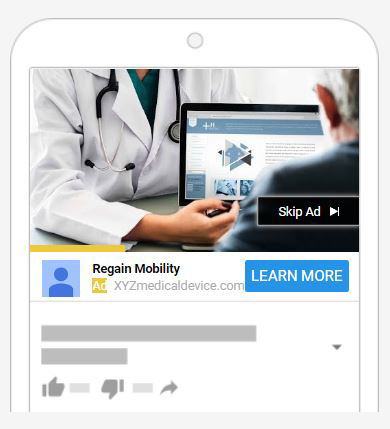 Rather than watching your ads passively on YouTube, viewers can learn more about your prescription drug or medical device through active engagement. Drawn in with a compelling video, patients and HCPs are then offered a quick route to your website via the CTA button. The 10-character limit on the button is just long enough to invite your viewer to "Learn More."
Imagine a teaser video that shows off the latest medical device from your company, with a CTA for doctors to "View Data." When they click on the invitation, it brings them to a clinical results page.
Or, you've created a compelling video showing the potential benefits of a new prescription medication, and you want customers who view your video to visit your website for a free trial. When they click your "Free Trial," CTA button, they are brought to a landing page with eligibility information and a downloadable brochure to take to their next doctor visit.
How TrueView for Action Works
When you run a video campaign on YouTube, you have the option of running ads as an in-stream ad or a discovery ad.
In-stream ads are those videos that appear before, during, or after a regular YouTube video.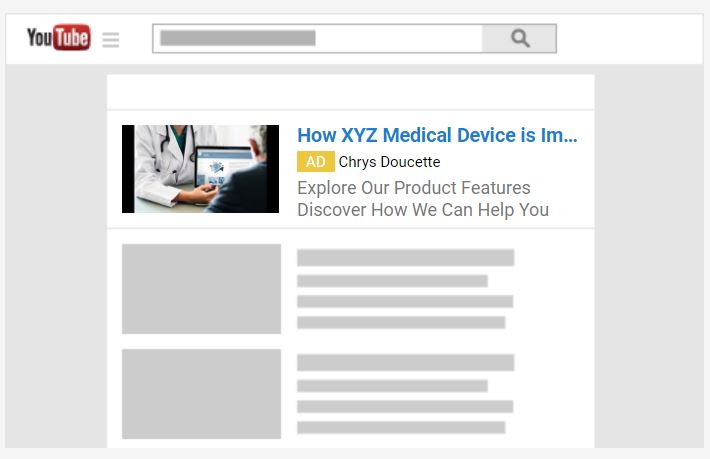 Discovery ads appear on YouTube as thumbnail images in places where customers might find them, such as near search results, next to related videos, and on YouTube's mobile homepage.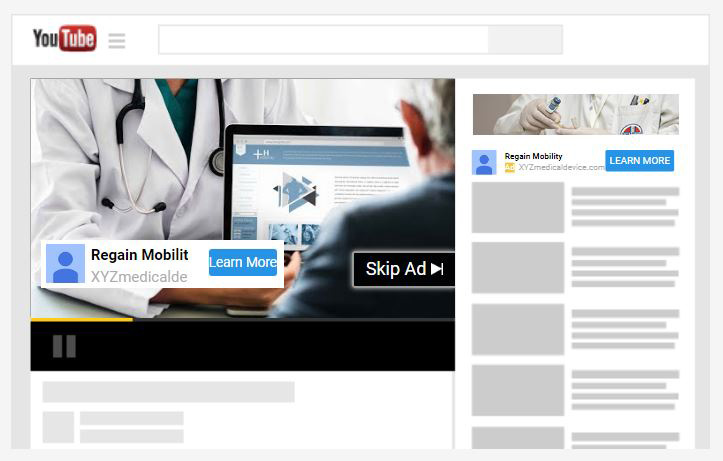 TrueView for action only works on in-stream formats. It is composed of a headline and a CTA button that will appear alongside your video.
When you launch an in-stream ad campaign on YouTube, you'll be able to include a promotional headline up to 15 characters long. This will make up the majority of the text on your ad. Alongside the headline, you will have additional space for a call-to-action button up to 10 characters long.
When a viewer watches your video, they will have the option of clicking the CTA, which will take them to your specified URL. For example, you could send physicians to pages highlighting your latest innovations or a drug's contraindications, or you could direct patients to a list of clinical study locations.
How TrueView for Action Can Benefit Pharmaceutical Brands
You can take advantage of impressions on your already targeted pharmaceutical video ads with custom call-to-action buttons inviting patients and HCPs to learn more. In this way, TrueView for action helps to generate leads from ads so you can follow up on your marketing efforts with patients and HCPs.
By following your CTA button, HCPs and patients can easily fill out a contact form to request more information about your product. You can also use analytics to discover which demographics are more likely to interact with your ads, helping you to refine your target audience and determine where to focus your marketing efforts. Are physicians in Texas clicking your ads at a higher rate than physicians in other states? Perhaps there's a demand for your medical device at a hospital in Houston, and now you have an informed opportunity to reach out.
And, when you conduct A/B testing on your CTAs and headlines, you'll be able to refine your campaign for even higher conversions. For example, you may find that your "Regain Mobility" headline leads to more conversions compared to your alternate headline, "Moving to You." Or maybe you'll discover that your "Get Trial" CTA is more popular than your button inviting viewers to "Learn More," but that those who view the Learn More page stay on your website longer as they explore dosage information and contraindications.
Now, you have the insights needed to refine your ads to better meet your campaign goals.
How to Set Up TrueView for Action
Setting up TrueView for action requires you to have an account in Google Ads, a video to promote, and a destination URL for your audience.
From your Google Ads account, start a video campaign.
Select a YouTube video and format for your ad. In-stream ad is the default format, and this is the format you want for a TrueView for action campaign.
Enter a URL, which will be the landing page once a viewer clicks your CTA.
Enter a display URL, which will be the URL a viewer sees.
Craft a CTA button up to 10 characters long.
Craft a headline up to 15 characters long.
Click Continue and launch your campaign.
More detailed instructions can be found here.
Other Considerations
Although TrueView for action campaigns have great potential for increasing user engagement, the success of any one campaign depends on a number of factors. Keep in mind these considerations as you're crafting your campaign:
As with other TrueView ad campaigns, viewers have the option to skip your in-stream ad after 5 seconds, so make sure your video is compelling.
Your headline is limited to 15 characters and serves as the primary text promoting your product, so craft it carefully.
CTAs are limited to 10 characters and should compel viewers to visit your destination website while matching the overall theme of your ad.
You'll pay for the ad when a viewer watches 30 seconds of the video, or the entire video if it's less than 30 seconds long. Regardless of duration, you'll pay for the ad if a viewer clicks on your call-to-action button.
Google reported a 150% growth in conversions driven by YouTube ads in the past year, and TrueView for action will surely add to that success. By leveraging your compelling healthcare ad with a strong CTA, you'll be one step closer to connecting with patients and doctors.
If you have other ideas for how TrueView for action can increase conversions for pharmaceutical brands and healthcare companies, feel free to share them in the comments below.
Download Our List of CTAs for Pharmaceutical TrueView Ads